When I hosted the second season of the Why Why Why podcast, my goal was to talk to writers from different parts of the world, but I started closer to home.
Since I was new to interviewing, I figured I'd ease into it by talking first with someone I already knew–Daniel Braum, whose first short story collection, The Night Marchers and Other Strange Tales, had recently come out.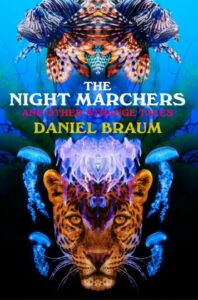 Now the book is being reissued in print by Cemetery Dance, with a spectacular new cover, plus a new introduction, afterword, and story notes.
So to mark the occasion, I've dusted off the podcast.
In it, you'll hear me talking to Dan about how the book and some of the stories in it came about; talking to his editor, Norman Prentiss, about how Cemetery Dance came to publish the book, and talked to reader (and proprietor of Green Hand Books) Michelle Souliere about how she came to read the book.
This collection is an excellent introduction to Dan's fiction, full of mysterious music, nights full of dark skies and hidden dangers, ambiguous encounters with the miraculous, and characters who navigate all of this with a lot of heart.
(My personal favorite of the stories is "The Sphinx of Cropsey Avenue." Except on days when it's "A Girl's Guide to Applying Superior Makeup and Dispelling Commonly Found Suburban Demons.")